Trucks over 7.5t MPW are banned from three Austrian border crossings
The Burgerland government tighten up freight transport on its roads and forbid hvg to use three border-crossings. Two Hungarian crossings are concerned: Sopron and Kópháza, and Sotina in Slovenia too.
From 15 th November Burgerland (Austria) has introduced a new local traffic restriction. The new law regulates the Hungarian and Slovenian transit traffic of heavy goods vehicles over 7.5 t MPW.
The affected roads
The restriction applies to vehicles over 7.5 t MPW traveling from Hungary or Slovenia to Austria or vice versa. They must not use: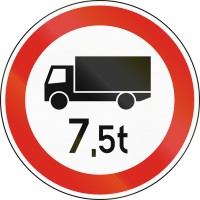 B16 between km 48+300 (roundabout B 16 / L 212) and km 52+120; border crossing point Sopron (H) - Klingenbach (A)

B62 between km 0+150 and 19+290; border-crossing point: Kópháza (H)-Deutschkreutz (A)

B58 between St. Martin an der Raab roundabout and Bonisdorf; border crossing point: Bonisdord (A)- Sotina (Slo)
The main roads are marked with prohibition signs.
The restriction does not apply to motor vehicles:
loading or unloading cargo in the following municipalities:

Eisenstadt (A)

Rust (A)

district Eisenstadt (A)

Mattersburg (A)

District Sopron (H)

Bezirk Oberpullendorf (A)

Neuhaus am Klausenbach (A)

Mühlgraben (A)

Minihof-Liebau (A)

St. Martin an der Raab, Jennersdorf (A)

Grad (SLO) and

Kuzma (SLO).

going to the seat of the carrier's company.
Which border- crossing can I use?
Rattersdorf (B61)- Kőszeg (87)

Schachendorf (B63)- Bucsu (89)

Heiligenkreuz (B65)- Rábafüzes(8)

Nickelsdorf -(B10)-Hegyeshalom (M1).
Click here to download the map of the restriction (zoomable).
Source:burgenland.orf.at
---
Related posts: